Optiphi Delta Skin Analysis
Take the test
What is the current condition of your skin?
What can you do against
*Wrinkles
*pigment spots,
*sensitivity and acne? 
How can you protect your skin against these threats early enough for the future?
Optiphi® has been conducting intensive research on active ingredients and skin types for many years.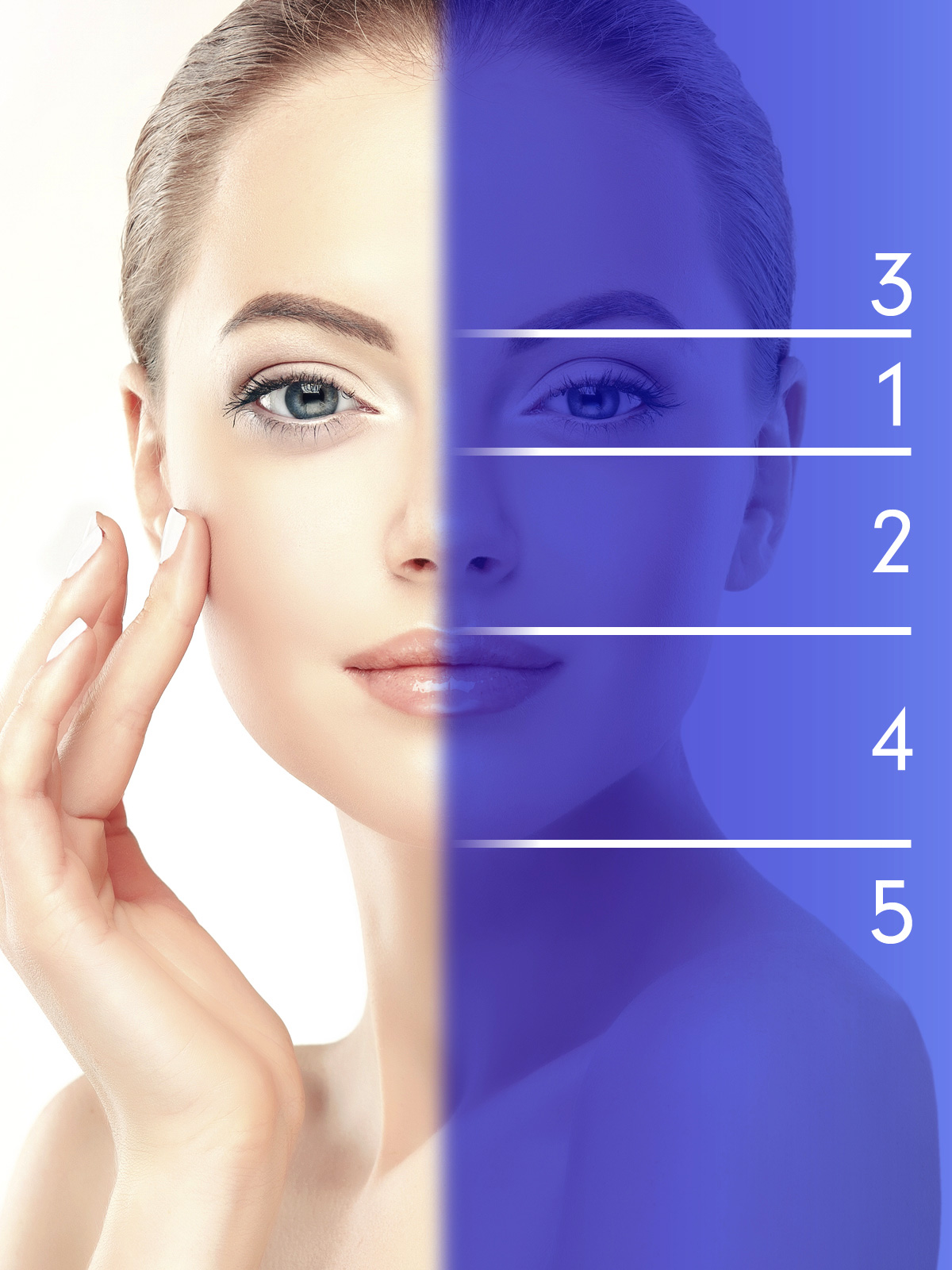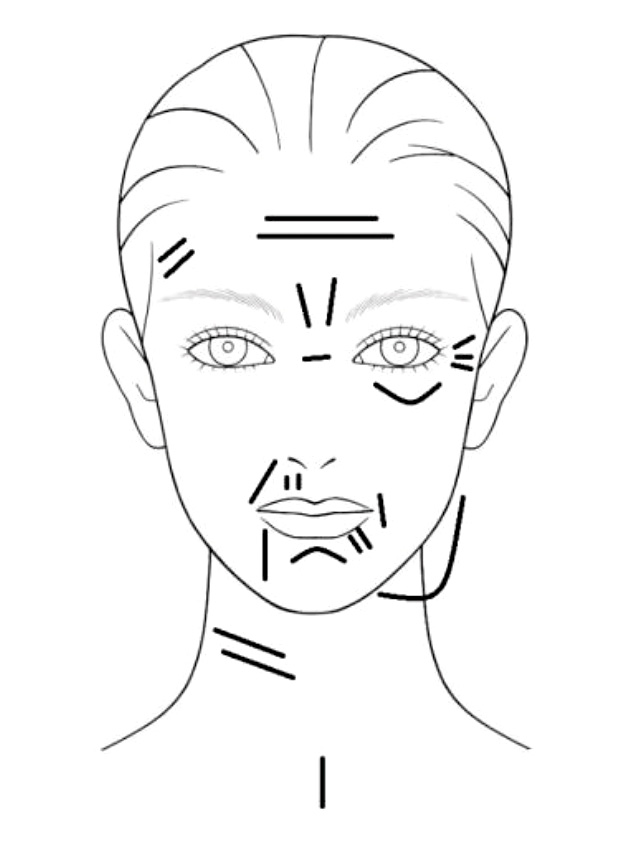 MCS – Code TM- System:
Optiphi developed an ingenious and simple formula for skin analysis with renowned medical experts, where visible damage can be assessed. This is the degree of sensitivity, inflammation and impurities, the degree of pigmentation, how dry your skin is in the different zones and which skin ageing processes have already started. This results in a code that is precisely assigned to the appropriate active ingredients for your cosmetic treatment, but also to the cleansing and care products for further treatment at home. Incidentally, this so-called MSC Code has been recognised and registered as a patent worldwide since February 2020.
Take the test yourself and determine your individual Optiphi skin code!
The skin characteristics required for classification are the following:
Table I: Rating scale for wrinkles, volume loss and sagging
1. No or barely noticeable wrinkles, sagging and/or loss of volume</li>.
2. Flat wrinkles, but no sagging and no volume changes</li>.
3. Moderately deep wrinkles, slight sagging and/or volume change on the jaw and  
    temples.
4. Deep, pronounced wrinkles, significant loss of elasticity and volume and/or sagging.
5. Very deep wrinkles, which show a massive loss of volume, elasticity and severe     
    sagging
W: Wrinkles
Tabele II: Wrinkles, sagging and loss of volum)
1. Periorbital lines/ lachrymal sacs/ temporal lobe-<br /> volume loss

2. Zygomatic arch/volume loss/periorbital lines</li>

3. Glabella frown line/ Horizontal brow lines/ Sagging brow arch</li>

4. Corner of the mouth wrinkles / marionette lines / labiomental fold / radial lip lines/  

    drooping cheek

5. Neck folds / neck tendons
P: Pigmentation
Table III: Rating scale for pigmentation
1. No or hardly noticeable pigment spots

2. Little noticeable pigment spots smaller than 3 mm. Slightly darker or lighter than skin tone

3. Moderate number of pigment spots smaller than 7 mm, slightly or moderately darker or lighter than the skin tone, perceptible uneven skin tone.

4. Many pigment spots around 10 mm, moderately darker or lighter than skin tone, very easily perceived as uneven skin tone.

5. Very many pigment spots larger than 10 mm, significantly darker or lighter than skin tone, very easily perceived as uneven skin tone, skin lesions (seen under VISIA or black light) or severe vitiligo.
S: Sensitivity (sensitivity and redness)
Table IV: Skin sensitivity rating scale
1. No or hardly noticeable redness

2. Mild redness/flushing over a small area (10 mm or less), no evidence of rosacea or telangiectasia.

3. Moderate redness/spotty flushing, minimal telangiectasia, minimal scaly patches or bumps.

4. Permanent red patches, rapid flushing, significant number of broken capillaries, raised, scaly patches or bumps.
D: Dryness (dryness and dehydration)
Table V: Drought and dehydration rating scale
1. No or hardly noticeable dryness, the skin is plump

2. Slight tension of the skin, areas with a dull appearance

3. The skin is taut, pale, uneven areas

4. Very taut, cracked skin with visible scales or uneven areas

5. Psoriatic lesions, eczema, cracked areas, moderate scaliness
For the systematic skin assessment, the face is divided into 5 zones – as shown below.
Each zone is analysed according to the four categories on a scale of 1 – 5.
1 = minor
5= severely affected
Each zone is assessed and evaluated
This creates a code for that zone. For example, for zone 1, the rating could be W5D2S4P3.
The zones are then added vertically to get a total code per category. The maximum value for each category is 25.
The following table can be used to easily calculate the final code.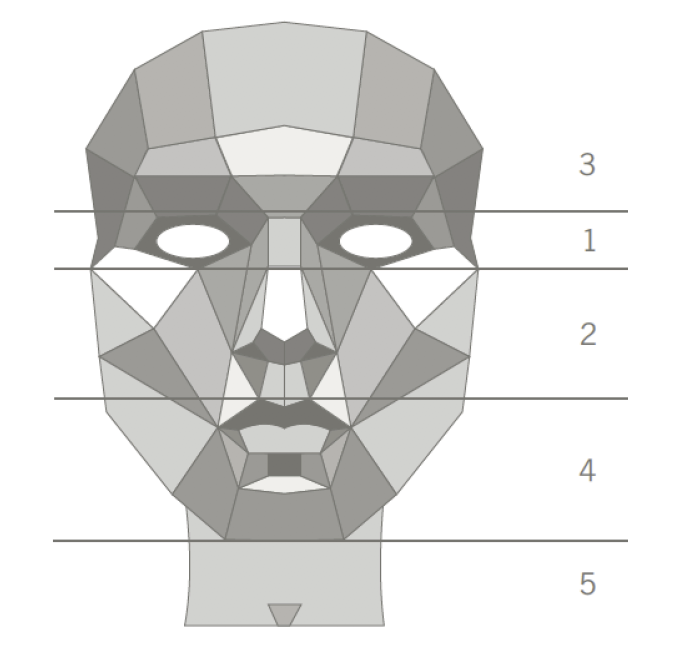 To discuss your test results with our skin experts, book your appointment today.